After the ADA
The next time you walk outside, look around and see if you can spot the changes in the physical landscape that are a direct result of the Americans with Disabilities Act. Curb cuts, ramps to buildings, labeled bathrooms, and widened hallways are all results of the landmark legislation. People with disabilities are no longer denied the right to live on their own or to seek employment.
But there have been stumbling blocks in the progress made since the ADA. The high cost of remodeling many facilities to make them accessible has been prohibitive to many. Judicial decisions have often narrowed the definition of disability and thus limited what changes have to be made, especially in terms of employment. In many cases, there is simply no uniform means of enforcement, and so change occurs only as a result of legal action.
A poster showing a theater full of empty seats is captioned with "For someone in a wheelchair there isn't a seat in the house."
Courtesy of Easter Seals
Significant improvements have gone hand in hand with those setbacks, though. The 1995 Supreme Court case L.C. and E.W. v. Olmstead was a major victory for independent living. The Supreme Court found that the state must provide individualized care for a person with a disability in the "most integrated setting appropriate to the needs of qualified individuals with disabilities." This meant that an individual could not be kept in an institution when he or she could be living independently. The case would not have ended as it did without the ADA: It relied on the legislation's removal of discriminatory boundaries against people with disabilities.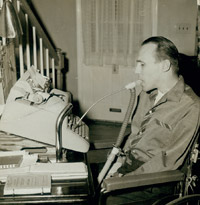 A seated man types on a typewriter using a mouth stick.
Courtesy of Post-Polio Health International
In 2008, the Americans with Disabilities Act Amendments Act (ADAAA) rejected many judicial decisions that limited the scope of the ADA and broadened the definition of a disability to include more people. This was intended to halt discriminatory employment practices against people with disabilities.
It is important to celebrate what has been accomplished since the ADA. In the summer of 2000, the American Association of People with Disabilities (AAPD) hosted a cross-country torch relay to commemorate the 10th anniversary of the passage of the ADA. The Spirit of the ADA Torch Relay traveled through 24 cities, including St. Louis, raising awareness of the ADA and encouraging people to continue to work toward full accessibility for all.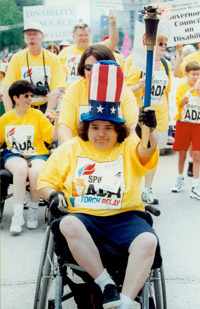 Ana Jennings, a wheelchair user, rides through the street holding a torch.
Courtesy of Max and Colleen Starkloff-Starkloff Disability Institute
Every year the Disability Rights Movement commemorates the historic legislation that began to open the door to equal opportunity to people with disabilities. The 20th anniversary of the ADA, in 2010, is a time to look back at the numerous positive changes and to challenge ourselves to continue improving our communities. There is still work to be done so that people of all abilities can be included in society. Start by noticing the barriers that exist all around you, the isolation and discrimination that many people face, and help work toward an open and free society in which everyone can participate.
Sources: Bazelon Center for Mental Health Law; Exhibit Text; U.S. Equal Employment Opportunity Commission; 28 C.F.R.§ 35.130(d) L.C. and E.W. v. Olmstead Supreme Court Decision
In their own words
Those with disabilities share their personal stories.
Opening more
than doors
Browse images and artifacts.
Missouri History Museum exhibition
Americans with Disabilities Act: 20 Years Later.
June 26, 2010
to Jan 8, 2012